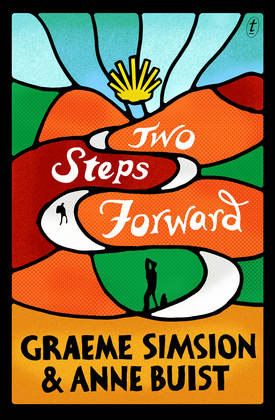 Released October 2018 and in the top ten Australian Fiction best sellers
…entertaining and refreshingly unpredictable romance… Frances Atkinson October 12th  The Age 
…a beautifully crafted tale of love, self-acceptance and blisters. Sunday Express 22.4.18
Released March 2018 overseas: Bestsellers on Israel (no.8 opening week) and the Netherlands (first five weeks)
Video Teaser starring Kim Denman and Dion Mills, by The Comedy Cartel here
Listen to us talking Camino & Two Steps Forward on the Coffee and Camino podcast episode one here
A midlife rediscovery journey/romantic comedy, Two Steps Forward tells alternating points of view from Zoe, an American artist, and Martin, a British engineer. Both are grieving. Both are at  a turning point in their lives: no money, no partner, no children they are responsible for…and no idea what to do with their lives. Fate throws them together on the Camino, from Cluny to Santiago, and as they negotiate the terrain, culture and people along the Way, they find they have more to offer each other than they expected. But before they can find out whether their lives will be intertwined beyond the Camino, they need to work out what they are running from – and what it is they wish to keep, and what they need to leave behind.
LAUNCH: October 3rd 2017 (release 2nd October) 
NOW SOLD OVERSEAS TO BE PUBLISHED 2018: Harper Collins in USA (Morrow)  & Canada, Two Roads (Hachette) in UK, Germany (Fischer), Israel (Tchelet) and Netherlands  (Luitingh-Sijthoff)
UK Release April 5th
"I enjoyed every moment of this information, funny and sweet novel" Readings
"The leisurely paced novel explores themes of forgiveness and self-discovery with gentle humour…a feel-good mature romance that explores what it is we need to leave behind in order to move forward." Books + Publishing
OPTIONED BY FOX SEARCHLIGHT/ ELLEN DEGENERES  details here
Background:
In 2011, we walked out of the door of our French farmhouse with a 6kg pack (me) and a 10kg pack (my husband, Graeme Simsion). Eighty seven days (two days off) and 2038 km later we arrived in Santiago de Compostela having walked some of the less know routes of the Camino (from Cluny to Le Puy, then St Jean Pied de Port, then through the Pyrenees to join the Camino del Norte and finishing on the Camino Primatevo).
It was a magic experience, both spiritually and physically challenging, and it wouldn't let go of us. We planned a novel and both wrote it from different points of view – and then last year put the two together, and edited it heavily. Originally called Left Right, Two Steps Forward is now due out 1st October 2017 with Text publishing.
We re-walked the entire Camino in 2016 for polishing touches. This time we finished off on the more popular Camino Frances (as seen in Martin Sheen's The Way).